Kingsman David Shaw: Soldier 'unlawfully killed' by Taliban gunfire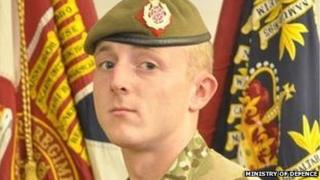 A soldier hit by Taliban gunfire inside a secure compound in Afghanistan was unlawfully killed, an inquest has concluded.
Kingsman David Shaw, of Barrow, Cumbria, was fatally wounded in Helmand Province in January 2013.
The 23-year-old was hit in the neck and died two days later after being flown to hospital in Britain.
Coroner Ian Smith paid tribute to the "heroic" efforts made to save the soldier's life.
Summing up the two-day hearing held in Barrow, Mr Smith said he was satisfied Kingsman Shaw had been killed by an incoming bullet fired by hostile forces outside the compound.
The bullet had "dipped" after crossing the 12ft (3.6m) wall, the inquest had been told.
Mr Smith also praised the bravery of Kingsman Shaw's family in donating his organs.
'Impossible situation'
After the hearing, Kingsman Shaw's sister, Sarah, said: "Firstly, and most importantly, we have to thank his platoon - his friends - for working so hard to save his life.
"You did your best in an impossible situation. Through your courage and determination you got him home.
"You gave us a chance to hold him, kiss him and say goodbye. For that, we will be eternally grateful."
On Wednesday, the inquest was told two Taliban bullets, with a larger diameter than those used by the British Army, were found inside the compound.
One of them had blood on it.
Maj Mark McLellan, the patrol's commanding officer, described it as a "fluke".
Sgt Mark Stevens was also hit, but that bullet struck the body armour on his back and he was only bruised by the impact.
Kingsman Shaw grew up in Barrow and joined the local Duke of Lancaster's Regiment in 2008.