Cuts to Cumbria bus subsidies and fire engines modified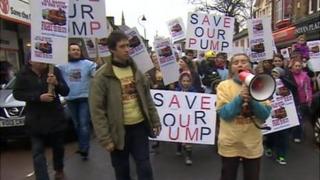 Cumbria County Council has voted to scale back cuts to its fire service and bus subsidies as it agreed a budget reduction of £24.4m in the coming year.
Following a three-month consultation the authority has modified six of its original savings proposals.
Over the next three years it needs to save £88m on top of the £88m it has already saved since 2010.
Council deputy leader Jo Stephenson said: "The task before the county council is grim."
One-off funding, totalling just under £2.5m, will be spent on adoption services, special educational needs, repairs to storm-damaged roads and extra support for schools.
The authority has frozen its share of council tax for the fourth year running.
A planned introduction of charges for on-street parking and residents parking permits will be now phased in gradually.
"The final government settlement has given us some leeway to invest in services for some of our most vulnerable children and school improvement while at the same time repairing storm-damaged roads," Mr Stephenson said.
"But this is one-off money and we can't escape the fact that even more difficult decisions will need to be taken next year."