Cumbria CCTV network approved by police commissioner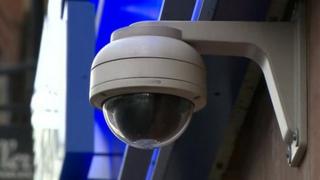 Plans for a network of CCTV cameras across Cumbria have been approved by the county's police and crime commissioner (PCC).
The 54 cameras would be controlled by Cumbria Police from the HQ in Penrith.
Previously, cameras have been run by district councils but, due to cuts, many are no longer routinely monitored.
The PCC and the six district councils would pay for the estimated £1m start-up cost, with the day-to-day running paid for by the force.
Cumbria's PCC, Richard Rhodes, said: "CCTV can play a vital role in delivering a safe and secure environment for people who live, work and visit Cumbria. It also supports crime prevention and reduces antisocial behaviour.
"It also has a significant impact on bringing offenders to justice, potentially reducing investigative time and freeing up officers."
However, Big Brother Watch, which campaigns against increased surveillance, has condemned the move as a "substitute for policing".