Cumbria's tourism chief 'very concerned' by lack of cultural funding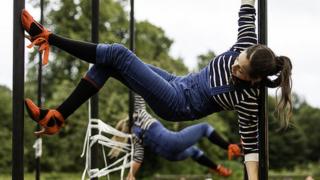 Cumbria's tourism chief says he is "very concerned" about the number of cultural events in the county that are running out of money.
The latest casualty is the Lakes Alive programme, which is being scaled back.
It follows the postponement of this year's Solfest and the cancellation of the Whitehaven Festival.
Ian Stephens, managing director of Cumbria Tourism, says there is no doubt the county's tourism industry will be affected.
Organisers of the Lakes Alive series of events, which brought street theatre and outdoor performances to Cumbria over the past few summers, say they are being forced to cut back because they have less money.
'Crisis'
It had been given £4m in the run-up to the 2012 London Olympics but that money has now dried up.
Mr Stephens said: "Where public funding is involved, we have a bit of a crisis in this county.
"We have got to do things differently and find new ways of funding these events."
Asked whether he was fearful Cumbria could lose its reputation as a place for exciting cultural events, he told BBC Radio Cumbria: "I'm very concerned."
As well as event cancellations, art venues including Whitehaven's Civic Hall and Ulverston's Lanternhouse have closed.
Lakes Alive's Julie Tait said: "We've still got the passion and energy, but we just haven't got the money to put on the quality of events people have come to love and expect."
Lakes Alive events helped welcome the Olympic torch to Bowness, light up Whitehaven's waterfront with pyrotechnics and see Rugby League fans entertained by glow-in-the-dark stilt walkers in Workington.