Trains cancelled on storm-hit Cumbria coastline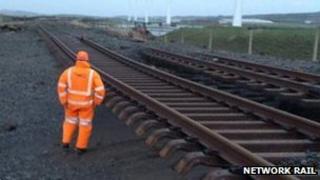 Engineers have begun the "huge task" of repairing the damage strong winds and high tides caused to a coastal rail route in Cumbria.
No trains are running between Carlisle and Barrow after sea defences and retaining walls were washed away between Sellafield and Maryport.
Kirkby-in-Furness and Braystones stations were also flooded, which damaged the line equipment.
Network Rail will run a replacement bus service while repairs are carried out.
Martin Frobisher, from Network Rail, described it as a huge task.
He said: "Our people will be working throughout the weekend to firstly assess the damage and then start work to repair our sea defences, track, replace equipment and remove debris from the line.
"We are sorry for the disruption this causes to passengers and we will be doing everything we can to reopen the line as early as we can."