John Fletcher Miller: Remembering the rain recorder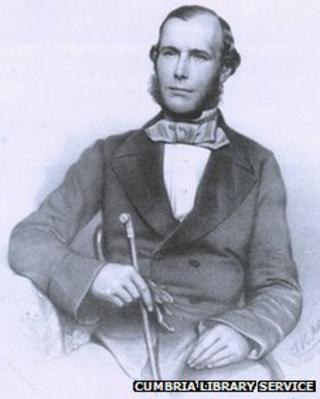 Inspired by a love of science, a Cumbrian man spent his life recording weather in the Lake District. He is now being celebrated in the place he helped define as one of the wettest on earth.
"The rain now began to fall in torrents and in a short time our streets were filled with one sheet of water from side to side... many of the terrified inhabitants thought the world was about to end."
A description of weather in a Cumbrian town which would be mirrored more than 160 years later.
On 15 December 1848, meteorologist and astronomer John Fletcher Miller recorded the moment an "awful" thunder storm hit Cockermouth.
On this occasion, "no great damage was done", but little did he know, more than a century after his death, an entire town and community would be left devastated.
In 2009, unprecedented rainfall caused rivers and streams to spill into hundreds of homes and businesses.
Cockermouth was one of the worst flood-hit areas in the county with an estimated 900 properties and 1,400 people affected.
"In his time it was all the more serious - now we have had flood works installed, but at that time they got the full blast of it," said Robert Baxter, senior archivist at Cumbria Archive Service.
'A brilliant spark'
John Fletcher Miller was born in Whitehaven in 1816.
Unable to pursue a medical career due to ill health, the wealth of Mr Miller's family allowed him to lead a life of leisured study and from the age of 15 he began keeping meteorological and astronomical registers of weather in the county.
Mr Baxter said: "He had a good scientific mind and he grew up with a love of science and was interested in astronomy, medicine and nature.
"He was a good researcher and he put all his weight into his meteorological registers. No one had really looked at it before.
"He spent his life making very complete observations and he was very methodical in doing this everyday, he was devoted. The journals go into great detail."
The journals were handwritten and see lightning described as resembling a "brilliant spark from a neighbouring chimney", ice is as "smooth as a mirror" and the moon "shining through serenely".
They were often supported with illustrations and snippets from newspapers which mirrored what he had recorded.
Mr Miller extended the scope of his work in 1846, by setting up several rain gauges and other measuring equipment at his own home in Whitehaven and at different heights on mountains across the Lake District, including Scafell Pike.
Some days he would walk about 70 miles (120km) in one day to check on his work.
He spent five years recording rainfall - the data he collected from his experiments established the Lake District as one of the wettest places on earth, with rainfall in some areas higher than in some tropical zones.
"He was the first person on record to record rainfall in the Lake District - we know there was only a couple of rain gauges before his work, so nobody had ever looked into it in such a methodical and scientific way as he did," said Mr Baxter.
He logged his findings until shortly before his death in 1856.
Mr Baxter said: "For somebody who was working in a provincial backwater, managing to produce works of this importance is quite an achievement.
"What he did has allowed meteorologists today to still draw on his work as a comparison. It is as important today as it was then."
'Largely forgotten'
Also a keen astronomer, Mr Miller observed binary stars, Encke's Comet, Saturn, the Sun and Mercury as well as events such as shooting stars, an eclipse and an earthquake in Whitehaven.
"Astronomy was his minor work, but some of his work, including his work on binary stars, was quite ahead of its time," said Mr Baxter.
In 1849 Mr Miller built an observatory with a refracting telescope roof next to the family's tannery in Wellington Row, Whitehaven.
During his life, he became a Fellow of the Royal Society, a Fellow of the Royal Astronomical Society and a Member of the British Meteorological Society [now the Royal Meteorological Society].
He had several papers published annually by the Royal Society in the early 1850s.
A plaque to commemorate his life and work is affixed to the house where he was born, on 7 High Street, Whitehaven, which is now a Grade II listed building.
The original volumes of Mr Miller's journals are currently on display at Whitehaven Archive and Local Studies Centre.
Mr Baxter said: "I think he is a largely forgotten figure in Whitehaven, a home-grown scientist like him should be remembered.
"He is somebody that received national recognition for something he did locally and had great importance to people here.
"I think it's important to not only celebrate his achievements, but he needs to be celebrated by the Lake District which is infamous for its weather."