Whitehaven Civic Hall: Campaigners hopeful despite closure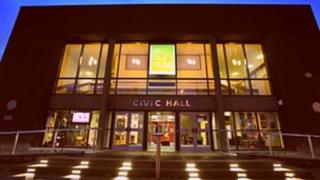 Campaigners say they are still hoping to save an entertainment and community venue on the day it is being closed.
Whitehaven Civic Hall will shut later after Copeland Borough Council said it could no longer afford to subsidise it due to £2.6m budget cuts.
A protest is being held later to try and save the venue, which was used by about 70 groups last year.
Whitehaven and District Chamber of Trade said it was negotiating with the council to try to reopen it next year.
One of the groups to use the venue is Copeland Amateur Theatrical Society, which will move its productions to Workington.
'Something positive'
Spokeswoman Lynn McTiffin said it was the "end of an era".
"It's so expensive to put on live theatre in the town and it's just going to be a real nightmare for other societies apart from us of where to stage future productions," she said.
Charles Maudling from the chamber of trade said talks had been held with the council since the closure was announced.
He said he was disappointed the venue could not have been kept open during the busy months of November and December.
Mr Maudling said the group had until the end of April to come up with a business plan to take over the venue, adding that it would not take a vast amount of money.
"We are hoping that something positive can come out of this," he said.
A council spokesman said the council would continue to speak to parties interested in taking over the venue.
"The reason for the closure is we can't afford to subsidise it because of the budget cuts," he said.
"The issue has never been that it's an undervalued facility."