Cockrock festival: Organisers cancel 2014 event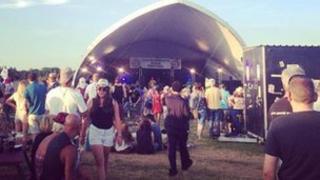 Organisers of a music festival in Cockermouth have said it will not take place in 2014 - the third Cumbrian event to be called off in a few weeks.
A statement from Cockrock said it had made the decision with "great sadness and a very heavy heart" and that the future of the event was uncertain.
Solfest and the Whitehaven Festival will also not be held in 2014.
Cumbria Tourism said it could affect visitor numbers but it still had a number of other high-profile events.
In a statement on their Facebook page, Cockrock festival organisers said: "Particularly over the last few years as with many festivals we have suffered financially, this coupled with a number of unwelcome restrictions that have been placed on the festival has meant that we have struggled in many ways."
'Strong and diverse'
The organisers were not able to say if it will return but they hope it will not be the end of the festival.
The concert started as a one-off fundraising event in 2005 and since then has expanded to become a non-profit event with acts performing on eight stages over three days.
Earlier this month, the organisers of Solfest, a music and arts festival held near Aspatria, said they had taken the decision not to hold the festival in 2014 to give them a "much-needed break" and to concentrate efforts on the 2015 event.
The 2014 Whitehaven Festival has been put on hold to make way for the town's harbour to be assessed for a revamp but is due to return in 2015.
Head of policy and research at Cumbria Tourism, Richard Greenwood, said: "Cumulatively the loss of these three events may have an impact on the visitor numbers over the next 12 months."
But he said the range of other events meant it would "continue to provide an extremely strong and diverse" offering which would attract a wide range of audiences.