Call for warning signs on beaches near Sellafield plant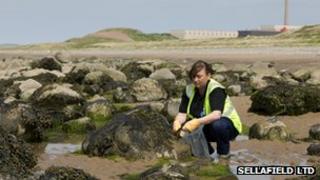 Campaigners are calling for warning signs to be placed on beaches close to the Sellafield nuclear facility.
The Cumbrians Opposed to a Radioactive Environment (CORE) pressure group wants notices to be displayed advising visitors that radioactive particles have been detected in the area.
Sellafield said there had never been a "single incident" of contamination.
CORE said a survey of 92 beach users found 97% felt they had a right to be informed of the issue.
'Strong case'
"West Cumbrian beaches are used by tens of thousands of tourists and locals every year," a spokesman for Sellafield Ltd said.
"Those people use the beach regularly and have done for many years, without a single incident of a beach-user ever being contaminated.
"In fact, users of beaches in Devon and Cornwall are exposed to much higher level of radiation from natural sources."
Decisions on whether signage is necessary are taken by Public Health England and the Environment Agency in conjunction with local councils, after data provided from Sellafield's monitoring programme is analysed.
CORE said Sellafield annual reports stated the number of particles recorded had risen from seven in 2006-7 to 254 in 2011-12.
It said it had sent a "strong case" for signage to be introduced to Public Health England, the Environment Agency and other bodies.
The group's health campaigner, Janine Allis-Smith, said: "Our review has urged that an immediate review of the advice is necessary and that the public can only be properly protected from the risks of encountering radioactive particles on West Cumbria's public beaches through the use of signs and notices."
The Sellafield spokesman said the site's beach monitoring programme covered "150 hectares each year".