Rapper Wiley quits 'Cockrock' after Cumbria Twitter jibes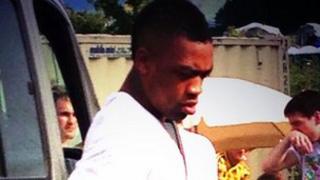 Rapper Wiley stormed off stage after 15 minutes at a Cumbria rock festival after being booed by crowds.
The Wearing My Rolex singer had tweeted while on his way to Cockermouth that he did not want to headline the "Cockrock" Festival on Saturday.
He blamed his agent for booking him and quit the stage after three songs when some of the crowd booed. He later dubbed the crowd "pagans" on Twitter.
Events director Marie Whitehead said she was taking legal advice.
She said she was "disappointed" but other "brilliant" bands - Reverend and the Makers and local band Colt 45 - had stepped in and "more than made up for" Wiley's disappearance.
'Hate my agent'
The rapper later posted on Twitter that he had earned £15,000 for the set.
Last month he dropped out of the Glastonbury Festival after claiming he was not being paid enough.
On Saturday he performed at the Lovebox festival in London before heading to Cockermouth.
He Tweeted: "Gotta start heading towards Cumbria...I hate my agent...
"Just the name of that festival in Cumbria makes me not wanna go..."
Wiley has almost 350,000 followers on the social media site. However, not all of his comments were negative, he said he was enjoying a local cheeseburger and that he was now "in Cumbria - all is good."
Some followers reacted to the posts by the London-based grime act.
One said: "Prepare to be booed, your attitude towards Cockrock was shocking."
But another added: "Still like @WileyUpdates even if 99% of Cumbria doesn't"
Cockrock is an annual three-day, non-profit making festival to promote music and local bands.
Ms Whitehead said she did not know whether the rapper had been paid yet, but that claims about his earnings were "exaggerated".
She said: "We are dealing with 250 contracts for the event, so I'm not sure what the position is but we will be getting legal advice on what happened.
"It is very disappointing as it would appear he did not fulfil his contract and was supposed to play for 45 minutes.
"I was watching and the crowd was enjoying the music but then he launched into a speech and tried to explain his Twitter posts.
"He said it wasn't to do with Cumbria and that he had had a fall out with his manager and hadn't wanted to do all the travelling. There was a little bit of booing so he just walked off saying 'goodnight'.
"But the other acts that stepped in were brilliant - Colt 45 were fantastic and Reverend and the Makers came back on stage."