Pair jailed for dumping dying man in Workington street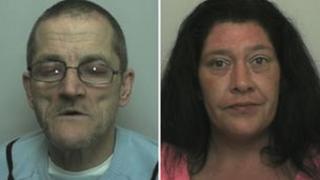 Two people who dumped a man in a street as he was dying of a drug overdose have been jailed.
Sean Thompson, 37, was found in Curwen Street, Workington, Cumbria in 2011.
The jury at Carlisle Crown Court heard he had been taking heroin with his friends in a nearby flat. No ambulance was called when he became unconscious and he was dragged outside.
Douglas Foster, 55, was jailed for five years, and 39-year-old Lisa Noble for 32 months.
Both had admitted perverting the course of justice.
Noble's son, Anthony Douglas, 20, also pleaded guilty to the charge and will be sentenced at a later date, the court heard.
A passer-by who saw Mr Thompson lying in the street called 999, and he was taken to hospital where he was pronounced dead.
'Inhumane in the extreme'
The court heard Foster and Noble, both of Fisher Street, Workington, also hid his personal belongings in an effort to disguise that he had ever been there.
The judge described their actions as "inhumane in the extreme".
Det Con Paul Hulse, of Cumbria Police, said: "These people showed no humanity when they removed Mr Thompson from the property and left him on the street to die and tried to cover up where he had been.
"They were unco-operative during interview and refused to answer any questions.
"We were able to piece together the last moments of Mr Thompson's life and were able to advise his family of what happened to him."