Cockermouth flood defence work begins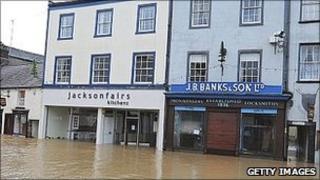 More than £4.4m is being spent on flood defence work in a Cumbria town where hundreds of homes were deluged in 2009.
The Environment Agency is carrying out the work in Cockermouth to protect 360 vulnerable homes and 55 businesses prone to taking in water.
The work will include building walls, embankments and flood gates along the Cocker and Derwent rivers.
The agency has already built new flood walls and fitted gates to protect homes in Waterloo Street and Graves Mill.
Construction has also begun on an embankment along Derwentside Gardens where existing flood walls are being extended.