Whitehaven hospital cuts complex orthopaedic surgery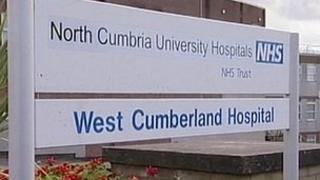 Complex orthopaedic surgery will no longer be carried out at Whitehaven's Cumberland Hospital.
From June, patients will be transferred to Carlisle's Cumberland Infirmary, 40 miles away, with local people returning to Whitehaven for rehabilitation.
North Cumbria University Hospitals NHS Trust said focussing expertise would enable patients to get to the theatre quicker and ensure a better outcome.
But the Royal College of Nursing (RCN) said it was "extremely concerned".
The trust said the move would increase capacity in Whitehaven for specialist work in other areas.
Discussions were taking place with the ambulance service to ensure a smooth transfer for patients between hospitals with no delays.
'Kneejerk response'
Dr Jeremy Rushmer, the trust's director of clinical transformation said: "It's much more important to be operated on the next day following a fracture, rather than near the place where you live.
"Having specialist surgeons in one place means we can do this."
The RCN said in a statement: "We are extremely concerned with the implications and practicalities of this decision.
"The throughput of emergency patients at the Carlisle site is already an identified problem because of lack of beds and insufficient staffing, so we want to see a clear and urgent risk assessment about how this additional workload will affect the situation.
"This is yet another knee-jerk response which has been taken without the consultation or involvement of the staff-side trade unions.
"While patient safety is paramount, simply transferring the problem to another site does not necessarily resolve the issue, and there will be potentially other unplanned consequences."