Whitehaven pays tribute to soldiers at town parade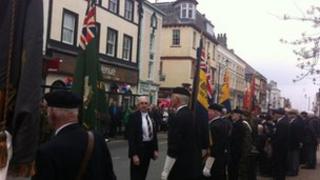 Servicemen and women from across the north-west of England are marking their return from Afghanistan with a homecoming parade.
More than 120 soldiers from the 1st Battalion, The Duke of Lancaster's Regiment, are marching through Whitehaven in Cumbria.
Schoolchildren have lined the route, and businesses have decorated their windows in celebration.
Streets in the town centre are closed off for the march.
Whitehaven is one of three places the regiment is visiting, where it has been given Freedom of the Town.
Organiser Gerard Richardson said he was expecting a large turnout, with more than 1,300 children attending and many others expressing an interest.
The regiment's commanding officer Lt Col Nick Wood said such parades "mean a huge amount to us".
"It's really important thousands of miles away from home to know we've got the support of our families and friends," he said.