Cumbria PCC handling of Mercedes expenses claim 'disappointing'
13 May 2013

From the section

Cumbria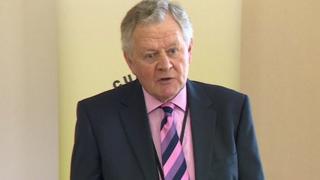 The way Cumbria's Police and Crime Commissioner handled a scandal over his expenses was "disappointing", a scrutiny panel has said.
Richard Rhodes apologised and repaid £700 after details of two chauffeur-driven trips, paid for by the taxpayer, were revealed in a local newspaper.
Three people have been arrested in connection with the leaked information.
A panel set up to scrutinise Mr Rhodes' role criticised his handling of the matter as "contradictory and unclear".
Referring to the use of the chauffeur-driven Mercedes for two speaking engagements in February, Mr Rhodes said he had failed to check the cost before the first trip.
He said the details of the cost would have been published in due course and would have paid it back in any case, even if it had not appeared in the media.
'Confusion and concern'
In a letter to the scrutiny panel he said: "I should stress that this was an expense that was legitimately incurred.
"I repaid it not because I was obliged to, but because I wanted to."
The panel's chairwoman, Celia Tibble, said it accepted his explanation of the situation.
But she said: "Much of the confusion and concern around this issue could have been avoided if statements you issued had been clearer and more specific at the time.
"Indeed you state in your letter that you in fact did not do something that, in previous statements at the time, you said you did.
"I am sure you will appreciate the uncertainty this has caused.
"In short, it is disappointing that the detail and clarity provided in your letter was not present when events were unfolding."