Lemurs 'stolen' from South Lakes Wild Animal Park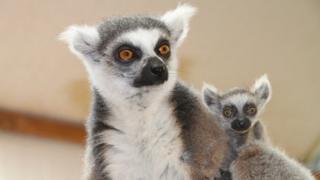 Two baby ring-tailed lemurs are missing, believed stolen, from a Lake District zoo.
They disappeared from South Lakes Wild Animal Park in Dalton in Furness on Sunday.
The park said the four-week-old babies would not survive more than a few days without their mother.
"There's no trace of them. If they'd been eaten by anything there'd be bits and bobs left," marketing manager Karen Brewer said.
The lemurs - two of 11 recently born - are allowed to roam freely among visitors within the park.
Ms Brewer said they were the size of a tea mug and could easily be concealed in a bag or under a coat.
The wild animal park has appealed for information from anyone offered lemurs for sale.
It believes they could fetch about £2,500.