Sun pipes help fish swim to breeding ground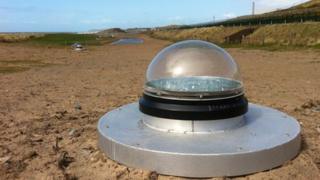 Pipes have been installed to allow sunlight into a tunnel in Cumbria to encourage fish to swim to their spawning grounds.
The pipes, with glass domes on top, are designed to help fish swim from the sea into the becks near Sellafield.
The Environment Agency said salmon and sea trout were reluctant to swim up the tunnel because of the lack of light.
The agency said the pipes would help ease the transition between light and dark for the fish.
"If it's very quick they don't like it, if it's nice and graded they're much happier - but I do tend to tell people fish are afraid of the dark," said Tony Callaghan from the agency.
Wooden bridges have also been installed by the Environment Agency to help natterjack toads cross from breeding ponds to hibernating grounds in sand dunes.