Verges and lay-bys blocked for Appleby Horse Fair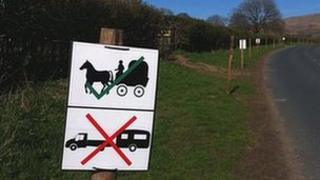 Roadside verges and lay-bys in Cumbria are being blocked off in preparation for a horse fair.
Up to 10,000 Gypsies and travellers are expected to attend the annual event, at Appleby, with many arriving in traditional bow-top wagons.
These can be parked anywhere, but those in motor vehicles are restricted to organised stopping places.
A website showing the routes and giving other advice has now gone live. The fair runs from 6 to 12 June.
The Multi-Agency Strategic Co-ordinating Group was established six years' ago to ensure all the relevant agencies worked together.
Chairman Robin Hooper said: "Appleby Fair is a unique event, attracting around 10,000 Gypsies and travellers from across the world and 30,000 other visitors who transform the small market town of Appleby, which normally has a population of 2,500.
"The fair is a pivotal event in the Gypsy and travellers' calendar and culture, and it is regarded as a traditional holiday where distant family members come to meet.
"We want people to have access to the most up-to-date information and by creating this new website, which is also mobile phone compatible, they will be able to get all of the latest updates, even when at the fair."