David Cameron to probe Cumbria PCC expenses leak arrests
24 April 2013

From the section

Cumbria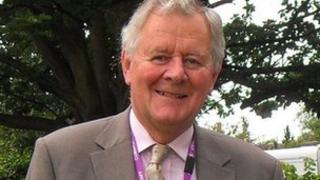 The prime minister has pledged to look into the arrests of three people over the alleged leaking of Cumbria's police and crime commissioner's expenses.
Conservative Richard Rhodes has already apologised for using a chauffeur-driven car paid for by the taxpayer.
Earlier this month police arrested three people in connection with leaking the expenses information to the public.
Mr Cameron agreed to look into the case after Lib Dem president Tim Farron branded the arrests "an outrage".
Mr Rhodes, who earns £65,000 a year, said he failed to check the £700 cost of the car and driver before using it for two trips. He has since repaid the money.
During Prime Minister's Questions, Mr Cameron said, in general, whistleblowers should be supported and he would "look carefully" at the issue.
'Freedom of speech'
Cumbria Police have searched one property and arrested three people, two of them civilian workers for the force, after the cost of the car hire was leaked to a local newspaper. All three are on police bail.
In the Commons, Liberal Democrat party president Tim Farron, who is also MP for Westmorland and Lonsdale, said: "Last week three people in Cumbria were arrested for apparently blowing the whistle in the public interest over the actions of the police commissioner."
He asked Mr Cameron: "Will you agree with me that this is a threat to freedom of speech, an outrage in a democratic society and will you intervene to make sure there is an independent investigation?"
The prime minister told him: "I will look carefully at this case.
"In general we should support whistleblowers and what they do to help improve the provision of public services. I will have a look and get back to you."
Last week, Mr Rhodes, a former head teacher, said he understood the public concern over the case and was sorry that details of his expenses were not published quickly enough.
He has refused to comment on claims by Shadow Minister for Policing David Hanson that police overreacted in making arrests.