Dog warning after Siddick Ponds nature reserve fire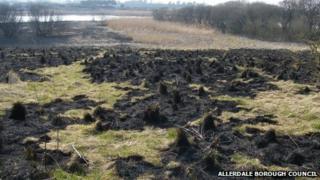 Dog-walkers visiting a fire-damaged nature reserve have been urged to keep their pets on a lead to give the bird population a chance to recover.
Siddick Ponds in west Cumbria is home to many endangered and migratory waterfowl and other birds.
About half the reed beds were destroyed in the fire, which is thought to have been started deliberately on 9 April.
It has had a major impact on wildlife at the site, with many birds displaced during the sensitive nesting season.
Kirsten Mawby, parks and open spaces officer at Allerdale Borough Council, which owns the reserve, said: "The remaining birds are now concentrated in a far smaller area so they are going to have food and protection problems because of the destruction.
"That is why we are urging everyone using the site to try not to disturb the birds, stay on the designated paths away from the reeds, and to keep their dogs on leads so the birds do not become distressed again."