Noel Young and Cumbria drugs gang jailed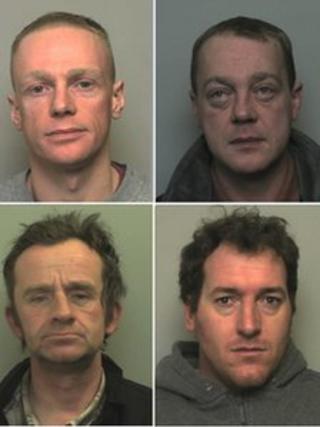 Members of a Cumbria drugs ring which was run from a prison cell have been jailed after a four-year police probe.
Ring-leader Noel Young, 37, was serving time at HMP Garth Prison when he made 30,000 phone calls in 2009 to operate his amphetamine and cocaine ring.
Young was jailed for 12 years after being found guilty of conspiring at Carlisle Crown Court to supply drugs.
His gang William Young, of Houghton, and Geoffrey Cairns and Francis Morley, both Longtown, were also jailed.
Although Noel Young was sentenced to 12 years in 2011, there was a reporting ban on the proceedings until the last member of the gang had been tried and sentenced.
The court heard how officers began to watch the gang when they caught Cairns in Stockton with amphetamine worth £10,000 in April 2009.
'Pure greed'
Over the years, officers watched the gang ferrying drugs and large amounts of cash around the North East and Cumbria, the hearing heard.
Noel Young, of Metal Bridge, near Carlisle, was serving a sentence for causing death by dangerous driving when he ran the drugs operation using three mobile phones from his cell.
Det Insp Rob O'Connor, of Cumbria Police, said: "Noel Young thought he was untouchable in his prison cell, where he made and received in excess of 30,000 phone calls over a six month period.
"Young was already serving a significant prison sentence, yet through pure greed he continued to orchestrate his criminality, using his brother-in-law Francis Morley as his trusted 'lieutenant' on the outside and Geoffrey Cairns as his gofer.
"The amount of cash and other goods recovered from the Young family home at The Green, Houghton, demonstrates the extent of the wealth they made from crime."
Francis Morley, 34, of Greenmill Road, Longtown, was also found guilty of conspiracy to supply cocaine and pleaded guilty to money laundering. He was jailed for eight years.
Noel's brother William Young, 35, of the Green, in Houghton, was jailed for eight years after being found guilty of a money laundering offence.
Cairns, 49, of Greenmill Road, Longtown, was found guilty of conspiracy to supply amphetamine and cocaine in December 2011 and jailed for six years.