Siddick Ponds nature reserve damaged by fire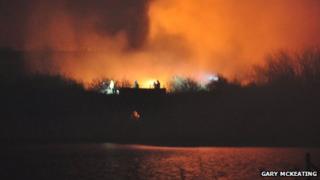 There are fears up to a third of a west Cumbria nature reserve could have been destroyed by fire.
Siddick Ponds, on the outskirts of Workington, is home to dozens of breeds of bird and is visited by migratory species such as bitterns.
It is one of six serious blazes believed to have been started deliberately over the past 24 hours.
Beaters helped tackle another near Cleator Moor, which covered an area of about 1km (0.6 miles).
Firefighters brought the Siddick Ponds blaze under control using water pumped from nearby ponds. The full extent of the damage is not yet known.
The reserve is a Site of Special Scientific Interest, with its reed beds and surrounding grassland providing a home to more than 155 species of waterfowl and other birds.
These include mute swans, little grebes, redshanks, sedge warblers and whitethroats.
'Substantial problems'
Cumbria Fire and Rescue Service has dealt with more than 50 deliberate grass and gorse fires over the past two weeks.
A spokesman said the Cleator Moor fire was "substantial" and caused problems for firefighters.
He said: "We had six appliances and a specialist wildfire team at Cleator Moor.
"We do know that there were multiple seats of fire, which means it was started in different places.
"It's quite substantial and covered several acres."
The fire service has blamed the increase in fires on youngsters on holiday from school and has urged parents to be vigilant.