Piotr Kulinski death: Accused men 'terrorised' community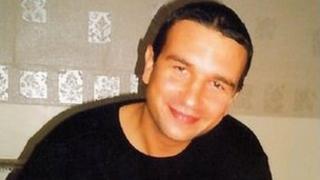 A woman whose partner was stabbed to death outside their home told a court that those accused of his murder had "terrorised" the Polish community.
Piotr Kulinski, 32, died after suffering seven stab wounds in an attack in Harraby, on 14 October.
Piotr Zygner, 30, Pauline Mucha, 26, and Sylwester Kawalec, 23, all of Currock Road, Carlisle, deny murder.
His partner Katrina Plominska told Carlisle Crown Court that she had seen her partner being attacked.
The court heard that factory worker Mr Kulinski had just left home for an early shift when he was attacked.
Ms Plominska told how she was woken by a noise and when she looked outside the window she saw her partner on the ground apparently being hit by two men.
'Stabbed weeks earlier'
She said she shouted in Polish for them to "leave him alone" and they "hit" him again before running away, the jury heard.
It also heard that Mr Zygner and Mr Kawelec had been drinking at a house party before carrying out the early morning attack in Arnside Road.
Mr Kulinski had told police that he had been having problems with the pair and they had stabbed him two weeks earlier, Ms Plominska said.
The row had initially started when Mr Kulinski bumped into Mr Kawelec in a pub, the jury heard.
Brian Cummings QC, prosecuting, told the hearing the settling of scores could not be considered as self-defence.
Ms Mucha is accused of driving the two men away from the scene after the attack.
Mr Zygner and Mr Kawalec have also pleaded not guilty to conspiring to pervert the course of justice along with Artur Skoczen, 30, of Ashman Close, Denton Holme, and Artur Woszczyna, 44, of Beverley Rise, Harraby, Carlisle.
The trial, which is expected to last six weeks, continues.