Richard Rose Academy: United Learning takes over school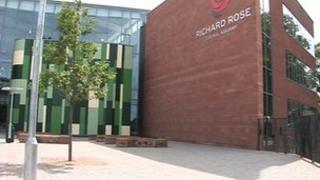 A school that was placed in special measures twice within four years has been taken over by a national chain.
Richard Rose Central Academy in Carlisle has joined the United Learning group of schools just weeks after it was found to be "inadequate" by Ofsted.
United Learning chief executive Jon Coles said the academy and its sister school had "great potential".
Schools minister Lord Nash said: "The Richard Rose Academies have struggled for a number of years."
The schools have been sponsored by businessman Brian Scowcroft since September 2008.
Mr Scowcroft said he had reached the conclusion that the schools needed more support.
'Permanent improvement'
"This will provide the two academies with a positive and secure future," he said.
Mr Coles said United Learning had always aimed to work with schools facing the "greatest challenges".
"While there is a great deal to be done here, we believe that we have the experience, resources and partnerships in place to bring about permanent improvement in the two academies," he said.
A new executive principal, Derek Davies, will lead the two schools.