Four Lake District call outs for rescue helicopter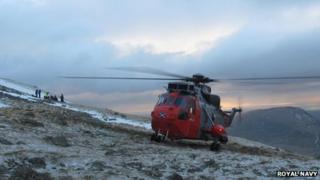 A Royal Navy helicopter was called out four times in the space of a few hours to assist with injured climbers or walkers in the Lake District.
The incidents on Saturday took place on Helvellyn, Swirral Edge, Scafell Pike and St Sunday Crag.
The Sea King crew from HMS Gannet in Scotland worked alongside the Wasdale, Patterdale, and Keswick mountain rescue teams in snow and freezing conditions.
Lieutenant Phil Gamble said: "It was quite an unusually busy afternoon".
The team was first called out to Helvellyn where a father and son had fallen on Browncove Crag.
As it was impossible to land, they had to be winched on board. One was later transferred to the air ambulance, and both were taken to Carlisle Hospital.
'Crew's endurance'
The Sea King refuelled at Carlisle Airport and was then sent to assist a fallen walker at Swirral Edge, before being routed to its third rescue on Lord's Rake, Scafell Pike.
On returning from a second visit to Carlisle Hospital, it responded to a call out to St Sunday Crag, Patterdale.
The casualty, a walker, was taken to Whitehaven hospital, before the crew finally returned to its Ayrshire base.
The crew's observer, Lieutenant Phil Gamble, said: "Although none of these jobs was particularly arduous in isolation, cumulatively they added up to quite a long period of time, which requires a fair amount of endurance on the crew's part.
"But it was good to be able to help all those who needed us and to work alongside all our colleagues in the other emergency services."