Richard Rose Academy: Teaching branded as 'inadequate'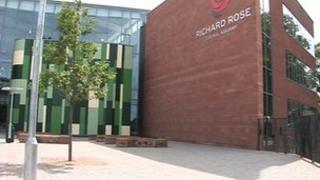 A Carlisle school has been placed in special measures for the second time in four years, with inspectors branding teaching as "inadequate."
The Richard Rose Academy was given the lowest ranking by Ofsted inspectors who toured the secondary school in January.
They criticised "systemic weaknesses" in leadership at the 1,300-pupil school and low attendance levels.
Governors said a new executive principal was being appointed to act on the "disappointing" inspection report.
Standards 'too low'
The academy opened in September 2008 after the merger of St Aidans and the North Cumbria Technology College.
But in January 2009, it was placed in special measures when inspectors found poor leadership and attendance and that staff were not properly communicating with parents. The special measures were lifted in November 2010.
However in the latest inspection report, Ofsted said: "The achievement of students is inadequate and standards are too low, particularly in English, mathematics and science.
"Too much teaching is inadequate or requires improvement. There is not enough good or outstanding teaching to overcome students' past underachievement.
"There have been only limited improvements in teaching since the last inspection and many of the shortcomings highlighted at that time are still evident.
'Lessons disrupted'
"A significant minority of students do not behave well enough and disrupt learning in lessons. Teachers are not always successful at tackling this.
"Systemic weaknesses in leadership following the previous inspection have slowed the pace and momentum for improvement."
Chair of governors, Brian Scowcroft said a new executive principal would "work closely with both head teachers and provide the capacity, experience and leadership that will help us move forward at pace."
"The result of the inspection is that the academy requires special measures in order to secure improvement," he said.
"This is very disappointing for us all but we, the governing body, fully accept Ofsted's findings and their conclusions on the issues that the academy urgently needs to address."