Cumberland flag registered with Flag Institute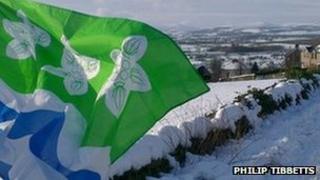 A new flag has been registered for the historic county of Cumberland.
The green, white and blue design has been recognised by the Flag Institute after a campaign by the Historic Counties Trust and local organisations.
It will fly from sites including Cockermouth Castle and Cumbria Military Museum.
Cumberland merged with other areas in 1974 to form Cumbria. Penrith MP Rory Stewart said the flag was important for the area's "culture and heritage".
Philip Tibbetts of the Flag Institute said flying the flag was a way of "expressing pride in their regional cultural identity".