Divers plan new lake litter pick
23 February 2013

From the section

Cumbria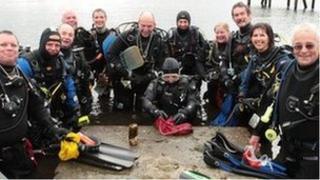 Hundreds of scuba divers are expected to take part in the next litter pick on Windermere in Cumbria.
The British Sub-Aqua Club has arranged the clean-up for 2 March.
Organisers hope the event will be the largest of its kind in Britain. Diving will take place in the area around Bowness Pier where it is believed most potentially dangerous waste lies.
It is hoped the debris collected will be used for sculptures in school art projects.
The last litter pick on the lake saw two vanloads of rubbish taken away.
Organiser Paul Rose said: "There were the obvious items like traffic cones and tyres, an umbrella and lots of shoes but we also came up with interesting things such as clay pipes and glass bottles which must have been Victorian and been thrown in many years ago.
"Two years ago, a Second World War mortar bomb was found near the end of the jetty at Bowness Bay and was removed by the army."
Paul Fry, diving officer for the Kendal and Lakes Sub-Aqua Club said only experienced divers would take part because of the "hostile" conditions.