Cockermouth team marks 60 years of mountain rescues
22 February 2013

From the section

Cumbria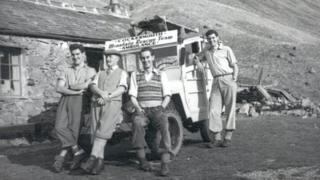 Sixty years ago members of Cockermouth Mountain Rescue Team would head on to the fells carrying electric lanterns after being called out by a policeman knocking at doors around the town.
Now the team is equipped with powerful and compact LED and they are alerted via their smart phones.
But as the team marks its 60th anniversary, chairman Steve Brailey said while there have been major changes - mainly with the equipment - other elements have stayed constant, like the mountains, the type of injuries they treat and the expertise and commitment of team members.
He said: "Some things haven't changed in terms of what we do but some things have changed dramatically.
"When we are called out we are doing very similar things to what people were doing in 1953 - going to the scene as quickly as possible, giving them first aid and carrying them down on a stretcher as quickly as possible.
"It's the same team spirit and big personalities - that hasn't changed."
'Tremendous pride'
Among the changes have been the first aid equipment, owing to advances in technology. And while injuries may be similar to 60 years ago, there have been changes in activities like mountain biking and parapenting (paragliding).
And while the clothes and equipment people have when they go out on the fells "has never been better", Mr Brailey said there has been a definite decline in the level of self-reliance skills, such as map reading, and more reliance on technology.
In the team's first year it received six call outs. Now the average is between 60 and 80 a year. The team members are all volunteers and spend about 8,000 hours a year on rescues.
By December 1953 the team raised about £50 which meant 300ft of rope, six karabiners and two electric lanterns could be bought, with members donating other equipment.
Now the team's annual running costs are £46,000, which is covered by donations and fundraising.
The team has 42 members. Two of them have more than 50 years of service, 12 with 25 years or more and 20 with 10 years or more.
Mr Brailey said: "There's a tremendous pride in being part of the organisation.
"Predominantly it's a love of the outdoors and it's also being part of a team. Someone once said it's like being part of a family."
Community support
The team estimates it has been called out more than 1,400 times over the 60 years of its existence. Members have treated 763 injured people and there have been more than 100 deaths.
Mr Brailey said the rescues with more serious injuries tend to stick in his mind but one of the most memorable rescue operations he was involved with was responding to a call out for a horse trapped in a bog.
He said he was thrown a piece of carpet that was lying around at the team's base and it was the only thing the horse could get a grip on. They managed to rescue it as a result.
The team was heavily involved with the operation to help people during the Cockermouth floods in 2009, which was an intense period of activity for them.
To mark its anniversary, the team is opening up its headquarters in Station Street to the public at 14:00 GMT on Saturday.
It will be showing how new equipment and technology has changed the way it operates compared to its early days.
Team leader Mike Park said: "Today's team stands on the shoulders of giants - the people who first came up with the idea of a Cockermouth Mountain Rescue Team and made it a reality.
"The people who followed, both within the team and throughout the wider mountain rescue community; the wives, partners, family and friends that equally make the team what it is as the team members themselves."