Hoopers Carlisle store to shut
20 February 2013

From the section

Cumbria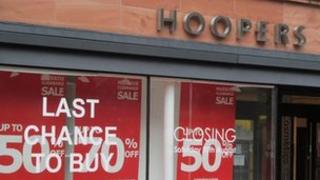 More than 20 people could lose their jobs after Hoopers announced it was to close its department store in Carlisle.
A spokesman for the company said it was "not viable in financial terms" for the store on Castle Street to remain open.
The Hoopers store originally closed in August 2012, due to "lack of profitability" and it was hoped a buyer would be found for the premises.
However, after negotiations to sell the store fell through, it was reopened as a discount outlet.
A spokesman for Hoopers said: "Alternative solutions continue to be investigated while we embark upon full consultation with all affected staff."
The store is likely to close in March.
Hoopers also has stores in Torquay, Wilmslow, Tunbridge Wells and Harrogate, which are unaffected by the closure.