Dale Burns inquest: Designer drug led to death
7 February 2013

From the section

Cumbria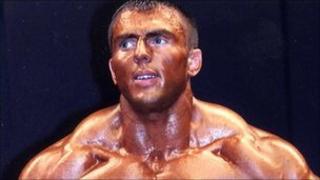 A designer drug was responsible for the death of a bodybuilder who was Tasered by police, an inquest has found.
Dale Burns, 27, suffered a heart attack following his arrest at his home in Barrow, Cumbria in August 2011.
The hearing, at Kendal Coroner's Court, heard that he had taken a substance known as "Madcat", and was Tasered during a violent struggle with police.
It ruled that the drug was the only significant cause of death and a narrative verdict was recorded.
Mr Burns, the father of two young children, and described by those closest to him as a "gentle giant", had taken the stimulant, also known as MDPV, on the night he died.
'Lethal' drug
In the course of a violent struggle with police he was Tasered four times and pepper-sprayed in the face.
He was taken to Furness General Hospital and had to be sedated before he could be assessed, but suffered a cardiac arrest and died.
During the two-and-a-half-week hearing, members of the jury were presented with evidence from experts in fields such as drugs, emergency medicine, pathology and police equipment and training.
The jury ruled that the force police used was appropriate and the only cause of death was the drug he had taken on the day.
After the hearing a lawyer for Mr Burns' children said they still had concerns about police training.
Supt Mark Pannone of Cumbria Police said: "The last few weeks have been extremely difficult for all involved and our thoughts and condolences continue to be with Dale Burns' family and friends.
Lessons learned
"Despite newspaper headlines at the time of Mr Burns' tragic death, detailed evidence from expert witnesses at this inquest has proved that his death was not caused by police use of Taser.
"The evidence at the inquest highlighted the dangers of MDPV, which is a Class B drug also known as Madcat, Plant Food and Ivory Wave.
"These are not 'safe' drugs. For Mr Burns, MDPV was lethal.
"Cumbria Constabulary representatives listened to the evidence heard at the inquest and, in addition to any recommendations the coroner may choose to make in relation to policies, procedures or training, we will ensure that lessons learned from this experience are addressed."
The Independent Police Complaints Commission has released the results of their investigation into the incident, which concluded that officers acted appropriately and that the force they used was justified.