Lowther Castle starts to reopen after £9m restoration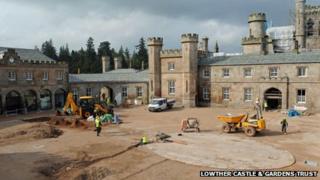 For one man the reopening of a Gothic styled building in north Cumbria will see the end of a year of "frantic work" by craftsmen and builders.
Andrew Mercer is the project director at Lowther Castle, near Penrith.
He has been involved in the day to day management of a multi-million pound project to turn a collection of ruined buildings and gardens, featuring on the English Heritage "at risk" register, into a viable tourist attraction.
"The great thing about a project like this is that there is no manual telling you what to do and how to do it," he said.
"A lot of it we've made up as we've gone along, but that is with the benefit of a great deal of wisdom from some wonderful craftspeople and also some clever professional consultants."
Built in 1805 the castle had been empty since the 1950s. It is set in 130 acres of grounds.
It has been the seat of the Lowther family, the Earls of Lonsdale, for 800 years.
For his first major heritage project, and one Mr Mercer described as a "whopper," it has been an emotional journey.
"Having seen it in a really poor state with roofs collapsed and rampant dereliction scattered around what was once a lovely building.
"To see her now starting to show her true beauty is just marvellous, and it is terrific to see the fruits of so many people's hard work."
The refurbished stable courtyard will be the first area to reopen as part of a £9m scheme to turn the castle into a tourist attraction.
Lowther Castle and Gardens Trust, a charity, is behind the project. It anticipates the venue will attract 100,000 visitors a year.
'Savour the beauty'
Frequently to be seen walking around the grounds of the Lowther Estate after hours, Mr Mercer takes his time to savour the accomplishments of his team.
"I rather enjoy the gardens and the castle each evening when I walk around with my beautiful dogs," he said.
"That's when I have a chance to really savour the beauty of the castle, the lovely facilities and features we have created and to enjoy the gardens as they develop."
Work is scheduled to continue for many years as the gardens and other structures are restored or renovated.
Project funding has come from the Northwest Regional Development Agency, and the Northwest European Regional Development Fund.