Drum-shaped convention centre to open on Windermere shore
2 May 2012

From the section

Cumbria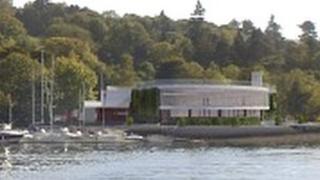 Plans for a drum-shaped convention centre on the shores of Windermere have been given the go-ahead.
Lake District planners voted in favour of the glass-fronted complex near Low Wood Hotel, despite several objections.
Opponents are worried about increased traffic and Friends of the Lake District said the centre would have a detrimental impact on the shoreline.
But hotel owner Simon Berry, of English Lake Hotels, said the centre would attract business to the area.
Mr Berry said the centre would host concerts, exhibitions, dinners and product launches.
Plans for the development were approved by the Lake District National Park Authority on Wednesday.
'Wow factor'
Mr Berry said: "We celebrate 60 years as a family owning the Low Wood site this year, and we are absolutely delighted as it was always going to be a very difficult planning application.
"We are a fourth generation Lake District family and we want something special for the area - design is always a subjective thing.
"We hope this iconic building will become a wonderful asset to South Lakeland, creating jobs and attracting business leaders and organisations from all over the country.
"If we are going to entice people to come up here then we really need to give them the wow factor so they spread the word that the Lake District is a great place to come and do business."
Jack Ellerby, a spokesman for Friends of the Lake District, said the centre was not "appropriate" for the tranquil Lake District site.