Cumbrian bog restored to help attract wildlife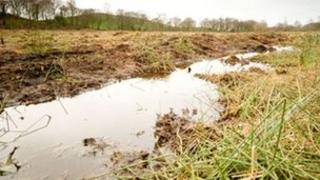 Restoration work has been carried out on a bog in north Cumbria to help bring wildlife back to the area.
Natural England helped restore the Unity Bog in Brampton by blocking old drains, removing trees and building peat dams to help keep the site wet.
Emma Austin, from Natural England, said she hoped wildlife would see the 23-acre site as a "new wetland haven".
It is hoped that the return of wetland wildlife to the lowland raised peat bog will provide new interest for visitors.
Ms Austin said: "The work at Unity Bog will create habitat for wildlife, such as sundews, bog rosemary, cotton grasses and cranberry, which has adapted to live in this unique habitat.
"Before too long, we should see a rich bog community returning... Although the restoration work might initially look a bit unsightly, it will heal some of the past damage to the bog and help it to regenerate naturally in future."