Cumbrian boat to sail in Queen's Diamond Jubilee celebrations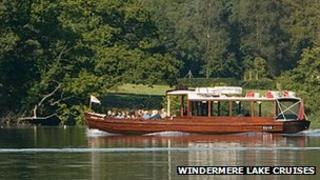 The Queen of the Lake, one of a number of small wooden tourist cruisers on Windermere, is to represent Cumbria during jubilee celebrations in London.
It will take part in a procession on the Thames to celebrate the Queen's Diamond Jubilee on 3 June.
The vessel was built in 1949 on the River Thames in London, but has been a popular Lake District attraction.
The boat was taken to Windermere, where it sailed under the flag of the Ambleside Motor Launch Company.
Nigel Wilkinson, from Windermere Lake Cruises, the current operator of the vessel, said: "We are absolutely delighted to be able, through the lord lieutenant, to represent Cumbria.
"Queen of the Lake obviously with her name, with royal connections - the Prince of Wales sailed on her last year - she is absolutely the boat to be going down there."
Procession of ships
Currently the 50ft (15m) long vessel is having its regular winter refurbishment on the shore of England's longest lake, at Lakeside.
The Thames Diamond Jubilee Pageant will journey down river from Putney to Tower Bridge.
It will feature a seven-mile (11km) long procession of Dunkirk little ships, historic vessels, steam boats and tugs.
At its centre will be a royal barge, decorated in red and gold, carrying the Queen and the Duke of Edinburgh.
The flotilla will feature 20,000 people on the water, travel under 14 bridges and take 90 minutes to pass any given point.