Cumbria farmer attacks EU agriculture subsidy red tape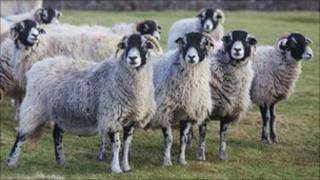 Increased bureaucracy from planned changes to a farmers' subsidies system has been criticised by a Cumbrian farmer.
The European Union has announced changes to the Common Agricultural Policy which, last year, cost £51bn.
The changes include capping the subsidy large farms can claim and making 30% of direct payments to all farms dependent on greener farming methods.
Will Rawling, chairman of The Farming Network, said qualifying for payments meant "paperwork for paperwork's sake".
Conservative MEP Richard Ashworth feels the same, saying: "We should be freeing farmers from red tape so that they can react quickly to market forces.
"Instead of tying them up in green tape and making it harder for them to produce food, we need to let farmers get on with farming."
Environment Secretary Caroline Spelman described the proposals as "extremely bureaucratic" and "disappointing".
Proposals 'suit' Cumbria
Government officials also said increasing payments for "greener" farming would mean little change in countries where environmental stewardship was already routine.
Mr Rawling said he had been doing just that for the past 20 to 25 years.
He said: "I've farmed all my life, pretty much, certainly for the last 20/25 years, under a system where a huge amount of our income has come from environmental management schemes.
"Those of us within the national parks and the areas on the fringes... we're very, very comfortable with the requirements of environmental schemes."
He believes the CAP suits the upland Cumbrian farms to an extent which it does not suit the larger, arable farms.
But he thinks the bureaucracy needs to be reduced.
"We're wasting far too much money on processing paperwork. It isn't necessary. It's purely and simply paperwork for paperwork's sake," he said.
Bureaucracy 'unrealistic'
"It's got worse and will probably get even more complicated under this system because, as we move more to environmental payments, conservation payments, we do seem to be scrutinised a lot more as far as compliance with those regulations go.
"Equally on the food production side we're burdened with levels of bureaucracy, form filling and movement restrictions and all this sort of thing which really serve little or no purpose in this farming situation.
"They may well be appropriate in other European countries but they don't fit in the uplands of Britain. They can't continue to burden us with more and more bureaucracy it's unrealistic."
The EU Agriculture Commissioner Dacian Ciolos said he was proposing "a new partnership between Europe and its farmers in order to meet the challenges of food security, sustainable use of natural resources and growth".