Morecambe Bay NHS Foundation Trust in 'red warning'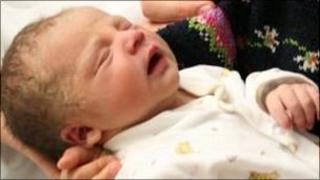 A second NHS regulator has expressed serious concerns about the safety of services at a hospital trust.
The Morecambe Bay NHS Foundation Trust is under investigation after the deaths of babies at Furness General Hospital's maternity unit in Barrow, Cumbria.
Foundation trusts watchdog Monitor has given the entire trust a second "red" warning. This follows a Care Quality Commission warning issued on Monday.
Monitor said there were very important issues that needed to be be resolved.
The watchdog's "red risk" rating means it is placing services under close scrutiny.
The trust, which runs hospitals in Barrow, Lancaster and Kendal, says it has already addressed most of the concerns.
'Important issues'
A Monitor spokesman said: "Following the warning notice issued by the CQC, we have increased the trust's governance risk rating to red and escalated the trust to consider whether it is in significant breach of its authorisation as a foundation trust.
"This means we will be placing the trust under close scrutiny and considering whether regulatory action may be required to address our concerns.
"These are very important issues for patients that must be resolved."
The CQC's warning notice detailed the actions the trust must carry out to improve services and a deadline by which improvements must be made.
Police are investigating Joshua's October 2008 death, as well as those of other babies at the hospital, although it is not clear how many deaths they are looking at.
In a statement issued last week, Cumbria Police said it was too early to say which cases their investigation would cover.
An inquest in June ruled that nine-day-old Joshua Titcombe died in October 2008 of natural causes, but found that midwives had repeatedly missed opportunities to spot and treat a serious infection.
Coroner Ian Smith said staff had not listened to the baby's parents and had failed to record proper notes and spot that Joshua was becoming seriously ill.
The inquest heard that if he had been given antibiotics at birth, there would have been at least an 80% chance of recovery.