Cumbria mountain rescue warning after five-hour rescue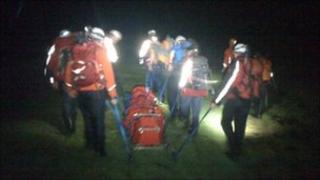 A mountain rescue team in Cumbria has issued a warning to walkers planning to climb Scafell Pike.
It comes after the team at Wasdale spent five hours rescuing a man who fell nearly 30ft (9m) into Skew Gill.
The walker was then taken to hospital where he was treated for head, arm and leg injuries.
Richard Warren, chairman of the Wasdale Rescue Team, said the man was doing the Three Peaks Challenge but "bad weather hampered the rescue".
Mr Warren said: "On Saturday morning, we had an open day but the weather was horrendous and we were surprised by the amount of people going up on the mountain.
"It ended that evening with one of the three peakers having an accident.
"The weather hampered the rescue, it was a long and hard rescue and it drained the team significantly.
"It's all down to preparation, people are attempting to do the walk all year round, but we are asking them to be sensible.
"When we rescue people who have injuries we don't get frustrated, anybody can have an accident. But there are so many people going up and getting themselves lost.
"On Saturday there were three groups that came down to the Wasdale Head Inn that were in the wrong valley, they had to pay a £95 taxi all the way round.
"They didn't go up with a map and compass. They weren't prepared."