Funding to train deafblind guides in Cumbria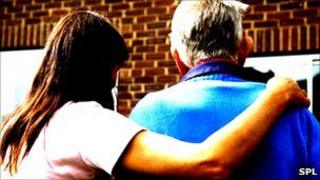 More direct help is to be offered to people living with dual sensory loss in Cumbria, after county council bosses approved a £40,000 funding programme.
The cash is being used to train guides for deafblind people in the county.
Twelve guides will aid people with both sight and hearing loss with a range of issues, including the use of computers, telephones and public transport.
The number of deafblind people in the county is estimated to rise from 3,200 to 4,000 by 2020.
James Airey, cabinet member for adult social care, said: "Many of the difficulties that people with dual sensory loss live with are what the rest of us take for granted without a moment's thought.
"There is a need for people who are deafblind, and have profound communication difficulties, to have regular support to maintain their independence and help them continue to contribute to family and community life and deal with the considerable challenges of living with dual sensory loss.
"The guides will be a link between the person who is deafblind and the community, minimising isolation and teaching the skills required for ongoing independence."