Survey shows black grouse increase at Cumbrian reserve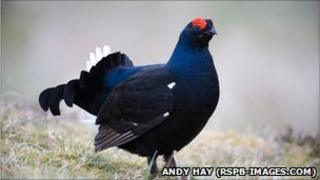 A wildlife-friendly farming scheme is reporting an increase in black grouse numbers of almost 20%.
Project staff at the RSPB Geltsdale reserve in North Cumbria say numbers of male birds have risen to 45 compared to 38 in 2010.
Male black grouse take part in courtship displays called 'leks'.
The male displays to attract a female mate by strutting with his tails spread and head held low, while making a rhythmic bubbling call that is interspersed with a sound like a sneeze.
A rise in the number of birds is thought to be due to changes in land management practices and good weather in June last year which led to a successful breeding season.
Natural England has been working with the Weir Trust and its tenant Tom Wilson on a wildlife-friendly farming scheme to encourage black grouse and other wildlife.
Simon Stainer, land management advisor at Natural England, who designed the project, said: "Black grouse need a varied upland landscape to thrive so we have implemented a series of management measures to encourage the diversification of upland habitats.
"The biggest change has been to replace the 1,200 ewe sheep with 100 breeding cows, which should give the land more vegetation structure, including scattered tree regeneration on the fell edge."