Jobs created by Cumbria offshore wind farm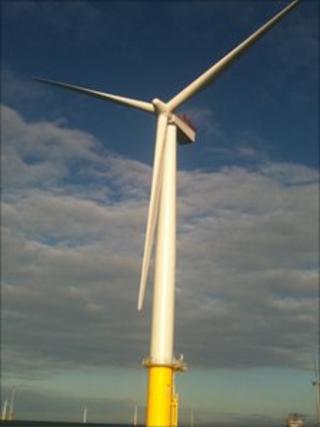 A total of 60 new technician jobs are being created by a new offshore wind farm off the coast of Cumbria.
It is envisaged all the new jobs at the Walney Offshore wind farm will be filled by local people.
Work began on the 52 turbine Walney One project in March.
The technicians will be responsible for the operation and maintenance of the turbines, and based in Barrow. The wind farm has already created about 100 local jobs.
The wind farm is expected to make its first contribution to the National Grid before Christmas.
It should generate power for more than 320,000 households - more than the whole of Cumbria.
More than 100 turbines make up the wind farm, situated 9.3 miles (15km) west of Barrow-in-Furness.
Danish company Dong Energy and SSE (Scottish and Southern Energy) are behind the project, which is being built in two stages, each consisting of 51 turbines.
A second wind farm is also being built about 6.2 miles (10km) off Walney Island, called The Ormonde Offshore Wind Farm.
It will have 30 turbines and is being built and operated by Vattenfall, a Swedish energy company.
Once both projects are complete, at the end of 2011, they will together produce enough renewable energy for about 445,000 households.