Inquiry into Coventry airport greenbelt business park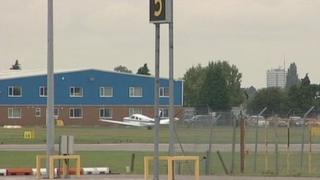 An inquiry into plans for a business park scheme on greenbelt land near Coventry airport is under way.
The developers say the £250m Coventry Gateway, which will include offices, industrial units and a hotel, will eventually create 14,000 jobs.
But the scheme, sited north and south of the airport, attracted hundreds of objections when it was approved by planners in Coventry and Warwick.
The inquiry at Leamington Town Hall is expected to last 16 days.
'Stop cities sprawling'
Coventry City and Warwick District Councils have already approved the scheme.
Mark Symes, chairman of campaign group, Against the Gateway, said he was confident the inquiry would overturn the planners' decision.
"Our primary objection is that the land between Coventry and North Warwickshire is greenbelt land," he said.
"The vast majority of the land is agricultural. That land was created just after the war and it was designed to stop cities sprawling out in the countryside and encourage the redevelopment of brown field sites."
Ben Linscott, of the Planning Inspectorate, said: "The reason cases like this are called in is... simply about ensuring the government is content the position the councils have reached reflects the balance of national greenbelt policy, alongside other considerations such as economic regeneration."
The Coventry and Warwickshire Local Enterprise Partnership, which supports the scheme, declined to comment.