Coventry has 'air of desperation', says Warwickshire chief executive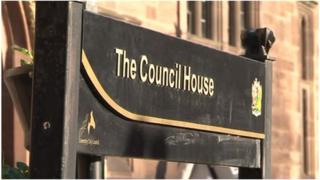 A city council has demanded an apology after the chief executive of a neighbouring authority said it had an "air of desperation".
Jim Graham, Warwickshire County Council's chief executive, sent an email criticising Coventry for taking government funding ahead of the county.
The email, which was not intended for wider circulation, was sent to Warwickshire Council's cabinet.
Coventry councillors said the remarks were "not helpful".
'Not an island'
Mr Graham's email, which was sent on 6 March, criticised Coventry for so-called "boundary blindness" and called on Warwickshire councillors to have a "strategy" to deal with it.
He said: "At times, there has been an air of desperation in the city to get anything it can out of the government's growth agenda.
"That would include the displacement of economic gain from the county - which still outperforms the city overall."
Labour-run Coventry's deputy leader Phil Townshend said Mr Graham was wrong if he thought the city was going to "sit back and take the crumbs from the table".
"Making disparaging remarks about Coventry is not helpful," he said. "They are not remarks you would expect from a partner you are working collaboratively with.
"He shouldn't be criticising us for having aspirations to improve things for people, he should be working with us. It has damaged our relationship and he owes a public apology to our leader and the people of Coventry for talking us down."
Warwickshire's Conservative leader Izzi Seccombe said it would be "ridiculous" to be the leader of a council that only looked inwards.
"We are not an island here," she said. "This is Jim's email. I need to understand the reasons for his thought processes."