George Eliot Hospital: NHS trust withdraws control bid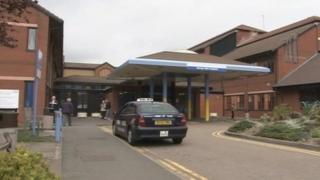 An NHS trust has withdrawn a proposal to run a Warwickshire hospital which was put in special measures last year due to major failings.
The University Hospital Coventry and Warwickshire NHS Trust had bid to run Nuneaton's George Eliot Hospital.
Chief executive Andy Hardy said the trust wanted to focus on its own "future sustainability".
The withdrawal leaves Care UK, Circle Health and South Warwickshire NHS Hospital Trust bidding to take control.
'A sustainable future'
In September, the NHS Trust Development Authority said George Eliot Hospital could be administered by "a non-NHS organisation" or another trust.
Mr Hardy said that "over the last six months, we have seen a significant improvement in performance".
He added: "Due to a combination of technical issues and our desire to focus even more on our future sustainability and bid for foundation trust status, we have taken the strategic decision to withdraw our bid."
Conservative MP for Nuneaton, Marcus Jones, said there was no intention to privatise the hospital.
"What we are trying to do is find a sustainable future for the George Eliot," he said. "But the point is, we will have an NHS hospital whoever manages it."
The George Eliot Hospital had the highest death rate in England in 2011 and was one of 11 trusts placed into special measures in July following a national review of mortality by the health service's medical director, Sir Bruce Keogh.