Daniel Pelka reaction: Children's A&E 'benefit to city'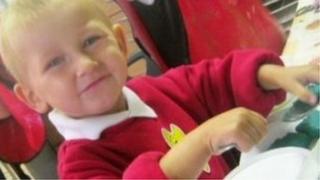 Coventry's A&E department will be "a benefit to the children of Coventry for years to come", according to a child protection expert.
Donald Hamilton's assessment came in response to the latest report into the murder of Daniel Pelka who was killed by his mother and stepfather in 2012.
A report published on Wednesday further examined criticisms found by a serious case review.
Mr Hamilton said the city's "positive" A&E department had been overlooked.
The special advisor, who is also a former judge, was brought in by Coventry City Council's leader specifically to advise on child protection issues.
He said he was "delighted" the city has a dedicated children's accident and emergency department that will "make a difference" to such cases in the future.
"Once there's an injury everyone there will be alert to the possibility of non-accidental harm," he said. "It's not just instinct, it's experience that when a parent comes in with this injury and that explanation the two don't fit."
Four-year-old Daniel was taken to the University Hospital Coventry's A&E department in Walsgrave in 2008 for a minor head wound and in 2011 after suffering a fractured arm.
Doctors there believed his mother's explanation that the injuries were accidental.
When Daniel was killed, 14 months after his second A&E visit, he had more than 30 wounds on his body and weighed one-and-a-half stone.
As a result of reviews into his death Coventry and Warwickshire NHS Trust said its improvements included:
Increased supervision and training
Extra health visitors in Coventry
More language translation for children and families
Updated 'missed appointment' procedures
Mr Hamilton said it was "very encouraging" staff were gaining the "community experience" needed to judge when injuries to children should be investigated.
He said "within a decade" the children's A&E department in Coventry would be a "stronger part of the system".
The department opened at University Hospital Coventry in 2006.
Among other criticisms, the latest report said at the time of Daniel's death hospital notes were "haphazard".
It also highlighted delayed information-sharing, staffing pressures and a lack of training across police, education, NHS and council services in Coventry.