Daniel Pelka: Report criticises quality of assessments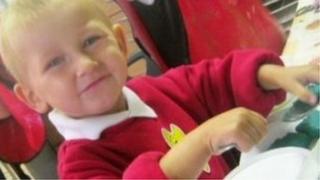 Risk assessments carried out by professionals involved with schoolboy Daniel Pelka before he was murdered were "poor quality", a report has said.
It also found delays in information-sharing, staffing pressures and a lack of appropriate training across agencies in Coventry.
The four-year-old was beaten to death by his mother and stepfather in 2012.
However, author Jane Wonnacott said she found "a strong commitment" to improving practice.
Social workers, health professionals and police were criticised in a serious case review (SCR) published after Magdalena Luczak and Marius Krezolek were convicted of Daniel's "horrific" murder.
The latest report set out to answer three questions posed by children and families minister Edward Timpson in light of September's case review.
It made no new recommendations but found eight areas highlighted by the SCR still required attention.
Under-resourced
Independent expert Ms Wonnacott found there had been inconsistencies in record-keeping and a lack of information-sharing between hospitals and community health services.
The report said that meant mental health concerns relating to Daniel's mother, Magdalena Luczak, were not known to health visitors.
It also identified "a lack of effective management and supervision" as a reason why social workers' assessments were "poor quality and lacking in detail."
Ms Wonnacott said professionals in Coventry had a "great resolve to try and understand why the systems that were in place to protect children failed in this case."
Amy Weir, independent chair of Coventry Safeguarding Board, said: "This deeper analysis does provide useful information that will help us make sure our continued monitoring of the progress already made continues to focus in the right areas."
The report found community health visitors did not routinely record childrens' height and weight, which would have shown them that Daniel's weight had "dramatically declined... in the year prior to his death."
'Root causes'
The University Hospitals Coventry and Warwickshire NHS Trust said it welcomed the findings and had been addressing the SCR's recommendations.
The report also highlighted that West Midlands Police took too long to notify social workers about incidents of domestic violence, although things had improved.
In a letter to the safeguarding board about the new report, Mr Timpson said he was confident that the "root causes of any failures" had been recognised.
"I trust now that the Coventry Safeguarding Board and the individual agencies will be rigorous in implementing the required changes to practice to ensure that the children of Coventry will be better protected," he wrote.
Shaun Kelly, safeguarding head of charity Action for Children said the latest report showed the government "must ensure services are effectively resourced and talk to each other."
"We cannot afford to allow any child to be shunted from one professional to another," he said.