Atherstone-on-Stour fire 'must never be repeated'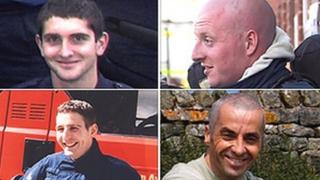 Officers, authorities and "all four governments in the UK" must learn from a blaze that killed four firefighters in 2007, a union chief has said.
Ian Reid, John Averis, Ashley Stephens and Darren Yates-Badley died after entering a burning warehouse in Atherstone-on-Stour, Warwickshire.
A Fire Brigades Union (FBU) report has found flaws in training and equipment.
FBU general secretary Matt Wrack said "key decision makers" must take action to "ensure events are never repeated".
Warwickshire Fire and Rescue Service said it had improved since the blaze in the vegetable packing plant.
In 2012, Warwickshire County Council, which is responsible for the county's fire service, was fined £30,000 after pleading guilty to failing to ensure the health and safety of its employees.
Three senior fire officers were acquitted of manslaughter over the deaths.
'Excellent shape'
The FBU report into the fire has criticised the training of firefighters and the quality of information available to the incident commander.
It made 15 recommendations including suggestions about risk management, incident command and the use of breathing apparatus.
Mr Wrack said the FBU wants "ministers in all four governments in the UK, as well as chief fire officers, fire authority members and other politicians, to focus on learning the lessons from the Warwickshire deaths".
"The FBU wants those key decision makers to take action on our recommendations to ensure that the events are never repeated."
A spokesman for Warwickshire Fire and Rescue Service said the organisation had not seen the report prior to its release, but that the "circumstances of the fire and the service at the time have already been examined in detail during legal processes that have now been concluded".
"Today, Warwickshire Fire and Rescue Service is in excellent shape, as the very recent peer review report has demonstrated," he said.
The FBU said it was working with health and safety experts to review firefighter safety and fatal incidents.