Coventry two-tone museum celebrates a city's musical heritage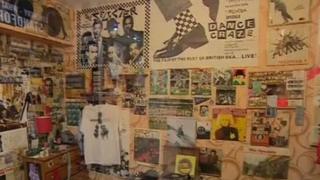 A museum has opened celebrating the two-tone record label and the rest of Coventry's musical heritage.
The museum charts the area's musical past up to local bands like The Specials and The Selector.
Historian Pete Chambers estimates £25,000 was raised for the museum in the 2-Tone Village in the city.
Neville Staple from The Specials said: "For me it's brilliant because kids who've heard about ska can now come here and find out all about it."
Coventry bands like The Specials and The Selecter played a central part in the growth of two-tone and ska music in the late 1970s and early 1980s.
Much of the memorabilia on show has been donated by local people, Mr Chambers said.
These include the original master tapes from The Specials first recording session and a platinum disc awarded to The Moody Blues.
Other artists celebrated include Lieutenant Pigeon, Hazel O'Connor and Pete Waterman.
The museum also features a reconstruction of a 1960s record shop listening booth.
The Coventry Music Museum, which is staffed by volunteers, will be open from Thursday to Sunday.