Loxley light aircraft crash leaves man trapped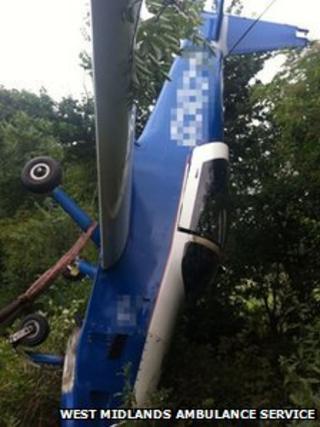 A plane has crashed near to a farm in Warwickshire.
The light aircraft came down near to Pastures Farm in Loxley, ending up upside down in a hedgerow, Warwickshire Fire and Rescue Service said.
Firefighters were called at 11:33 BST and worked to free the pilot. Crews were there for about an hour.
West Midlands Ambulance Service said the pilot, believed to be in his 50s, was "fortunate" to escape with no injuries.
A spokesman said: "He was the only person aboard and was trapped in the aircraft by the fact the plane's canopy would not open due to the position of the plane.
"Once the plane was made safe by the fire service, they were able to access the man and assist him down from the plane.
"The man was assessed by paramedics at the scene but did not require further treatment."