Coventry council may cut about 140 jobs and close home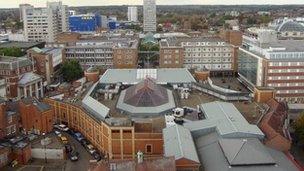 A Coventry care home for elderly people coming out of hospital is to close and 140 care jobs are to go, the city council has announced.
The plans account for about £10m of the £22.5m savings the council's community services must make by April 2016.
The proposals include reducing funding to outside care organisations and centralising services for adults with learning disabilities.
Its "top priority" was to protect the most vulnerable, the authority said.
Cabinet member for health and adult services Alison Gingell admitted most of the 140 care jobs would be frontline staff, but some managers would also lose their jobs.
She said: "It's regrettable and not what we'd choose."
The Labour-led authority is proposing to close Aylesford care centre, which provides assistance for elderly people who have been in hospital.
It is also planning to decommission either Jack Ball House in Henley Green or George Rowley House in Canley, the two remaining bedsit accommodation facilities in Coventry.
About 23 people stay in each house, many of them long-term tenants.
Eric Williams House in Whoberley, the only remaining council-run residential home focussing on dementia care, is to stay open.
About 800 jobs at the council have already been cut over the past two years and another 800 are still at risk, including about 140 care jobs revealed on Tuesday.
Next Tuesday, a public consultation over the community services proposals could be approved by cabinet which would run from 27 August to 15 November.
Cabinet would then decide in December whether to give the plans the go-ahead.